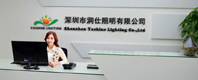 电话: +86-18002599296
E-mail: michelle@yoshinelighting.com
Skype: yoshinelighting
whatsapp: 18002599296


产品详细:
The linear in-ground led is a high powered in-ground wall washer which available in single and RGB colors
The linear in-ground led is IP67 rated with a stylish anodised flat bezel.suitable for exterior lighting
application . The recesssed waterproof floor led are led products for both indoor and outdoor lighting that
enhance the architectural context . the watertight recessed leds are circular or square in shape and are
available in various sizes and power ratings, in order to meet the most varied lighting technology applications .
Product Description
Inground linear fixture is design for illuminating shopping and and pedestrian areas . Parks .gardens and
sculptures . This low glare luminarie is provided with an 8mm thick tempered glass and is rated as a
walkover luminarie . the glass has a special wrap around high temperature silicon gascket that provide
additional ingress protection . Low copper contect die-cast aluminum housing with high corrosion resistance.
Stainless steel fasteners in grade 304 . Power is provided through a signle PG9 watertight cable gland .
Standard recessing box in high density polyethylene included .

ADC12 aluminum hight pressure die casting provides excellent mechanical strength . Clean product lines
and excellent heat dissipation
UV stablized Powder coated ensure it can withstand harsh environments .
Provided hardware is 304 stainless steel .
Provided with special injection mold. Long life and maintains the gaskets seal over years of use and
compression .
Die cast aluminum is used for excellent mechanical strength and thermal dissipation in low and high
ambient temperatures . Ensure maximum lumious flux output .as well as providing long led service life .
Standard 10kv surge suppressor provided with all fixtures .
Tapped holes are infused with an special anti seize compound design to prevent seizure of threaded
connections . Due to electrolysis from heat corrosive atmospheres and moisture .
Stainless steel 304 square trim
Precise optic design provides exceptional light control and precise distribution of light .

Aluminum body and stainless steel trim . Impact resistant glass .IP65
AC120V AC240V DC24V . Multi-voltage . DMX512 .
All power and data connections to be down threw stainless steel gland nut provided with the fixture .
Maxium 50000hrs depending upon the ambient temperature of installation location .
Driver over capability 1300kgs vehicle weight .
PN#

Trim

Option

Watt Color

DIMENSION

DEGREE

IP
YS3LSS12W
Linear 304ss Symmetric 12w W/R/G/B/A
L1000*W30*H90mm
120° IP67 IK08