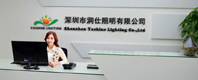 电话: +86-18002599296
E-mail: michelle@yoshinelighting.com
Skype: yoshinelighting
whatsapp: 18002599296


产品详细:
Multi purpose spot light with high power light source, Die cast aluminum body with stainless steel bezel, Supplied with ground spike and bracket for indoor and outdoor applications, ideal for garden driveway foliage walkway, pre-wired cable offered . spike length 210mm .
Dimension : D102*H138mm Spike:210mm
Material: Die cast aluminum
Color of fitting: Black
Voltage: AC100-240V DC24V
Watt : 5*1w . 5*3w .
IP rating: IP65
Cable: 50cm
Lamp : High power led
View angle : 15/30/45/60
°