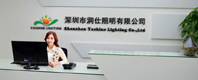 电话: +86-18002599296
E-mail: michelle@yoshinelighting.com
Skype: yoshinelighting
whatsapp: 18002599296


产品详细:
Description 18 or 24w round led inground light offers powerful led up lighting for led landscape or led architectural lighting applications . these energy-efficient led inground light have a durable waterproof design that are resilient to being stepped on and are popular as led pathway lights . led deck and patio lights . led pool deck lights or led garden lights . use its high reaching led light beam for elegant led highlighting on trees or led façade lighting applications . round led inground lights can be installed in wood . stones . concrete or other building materials for an attractive recessed led light source for commercial led or residential led outdoor lighting applications .

Operating voltage : AC100-265V DC24V
Finish : Silver with black plastic buried sets
Beam angle : 8° 15° 25° 45° 60° 10*30° 10*40° 10*50°
Light colour : 2700k 3000k 4000k 5000k 6000k Red Green Blue Amber RGB
Light output : 1600-1800lm for 18w . 2200-2400lm for 24w
IP rating : IP67
Dimension : D210*H160mm Cut 196mm
Housing : Die cast aluminum body with toughed glass with stainless steel bezel
Watts : 18w 24w
Light source : 18*1w 24*1w
Operating temperature : -25°C to 50°C
Life span : 50000hrs