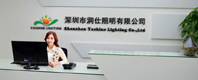 电话: +86-18218811908
E-mail: michelle@yoshinelighting.com
Skype: yoshinelighting
whatsapp: 18002599296


产品详细:
Beam Spreads : The model is available in an 6° 30° 60° degree beam spread .
Color&Light output: Utilizes High power LED in four standard colors . 3000k 4000k 5000k 6000k . LM80 .
Power: Operate on 24VDC using transformers . A wide range transformers are available in 120v and 277v primary .
Lifespan: Long life LEDs eliminate maintenance and replacement expenses.
Mounting&Adjusting: The installer located and fastens the mount clip.
Operating temperature: Minimum and maxiumum ambient air temperatures around this luminarie shall not exceed - 22°F to 122°F . Any application
should also take into consideration air flow and ventilation to ensure performance and reliability .
Colors

White Blue Green Red
Beam angle

6° 30° 60° degree
Photometrics

210lm 3w 680lm 9w
Mounting

Bolt or screw directly to surface .
Power consumption

3*1w 3*3w
Finish

Silver finished aluminum
Housing material

Aluminum
Ambient operaint temp

- 22°F to 122°F
IP rating

IP65 wet location
Fixture connectors

Male and female connect
PN#

Color

View angle

Watt Dimension

Voltage
YSHPS0131W

White/Mono colored

6° 30° 60°

3w

D76*H90mm

DC24V AC120V AC240V
YSHPS0132W

White/Mono colored

6° 30° 60°

6w

D76*H90mm

DC24V
YSHPS0133W

White/Mono colored

6° 30° 60°

9w

D76*H90mm

DC24V