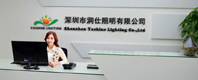 Name: Michelle
Tel: +86-18218811908
E-mail: michelle@yoshinelighting.com
Add: 6B,Jiayi industrial area,longhua disctrict shenzhen,Guangdong,China
Skype: yoshinelighting
whatsapp: 18002599296



Water and shock resistant lighting fixtures with powerful led arrays. These wall and floor recessed fixtures deliver an intense light effect . Enhance the architectural character of your project and landscape . accentuate trees or sculptures . also uplight facades or large garden features . indicate the right direction along paths and driveways .Perfect as a guidance light .

Die cast aluminum structure, low copper content, double layer coating for high resistance to corrosion . the aluminum components are painted with a double coat using powders which are compliant with qualicoat standards . a first layer of epoxy powder with excellent chemical and mechanical resistance and a second finishing layer of polyester powder resistant to UV rays and atmospheric agents . the entire painting process of the aluminum fitting starts from components which have been sandblasted in advance to make the surface more porous and increase the adherence of the paint. Ares effects alkaline and acid washing to clean the surfaces completely . then rinses with demineralized water to remove any residue particles . subsequently a chemical conversion treatment is done to protect against rusting .
Total: 7
Page: 1 / 1
First
←Previous
Next→
End