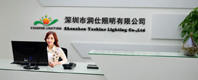 Name: Michelle
Tel: +86-18218811908
E-mail: [email protected]
Add: Floor 6, Building 2, No.247 Longxi Road, Jianghai District, Jiangmen,Guangdong,China
Skype: yoshinelighting
whatsapp: 18218811908


Product name : Landscape lighting

Product No. : YS308B
Details:
Ideal compact unit perfect for highlighting key areas or softly illuminating even, large vertical surfaces. Perfect for creating a subtle line of light. Suitable for inline installation, to be installed with insertion box and comes pre-set for looping connections with dedicated accessories to be ordered separately.
Concept : Inground wall washer projector fitted with led sources
Materials : Anodized and black painted die cast aluminum body, Stainless steel ultra flat decorative ring with bevelled edge, extra clear protective glass, anti-theft torx screws.
Source : High efficiency led chip on board
Optic : Wall washer optical unit composed of an PMMA lens, a high reflectance
Installation : The nylon installation sleeve include . the sleeve comes with a ring for flush installation. 20kn resistance against static load .
Operating voltage : AC100-265V DC24V
Finish : Silver with black plastic buried sets
Beam angle : 8° 15° 25° 45° 60° 10*30° 10*40° 10*50°
Light colour : 2700k 3000k 4000k 5000k 6000k Red Green Blue Amber RGB
Light output : 700-900lm for 9w 1000-1200lm for 12w
Dimension : D160*H155mm Cut 150mm
Housing : Die cast aluminum body with toughed glass with stainless steel bezel
Light source : 9*1w 12*1w
Operating temperature : -25°C to 50°C