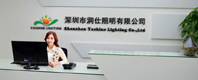 Name: Michelle
Tel: +86-18218811908
E-mail: michelle@yoshinelighting.com
Add: 6B,Jiayi industrial area,longhua disctrict shenzhen,Guangdong,China
Skype: yoshinelighting
whatsapp: 18002599296



About us
ShenzhenYoshine Lighting Co.,Ltd is an leading designers and suppliers of energy-efficient lighting systems for
commercial,architectural, retail, hospitality, healthcare, educational and residential applications. we deliver these
products to the public via importer . distributor .wholesaler . contractor . consultant to end users .Our customers
include every sort of individual and groups . government agency . retail store . lighting supply companies . schools.
church. hotel . theme park plaza etc . we strive to provide unparalleled service and bring the latest industry
techonoly to our clients . with feature products led wall washer . direct view cove lighting. flood&spot lighting. inground and step light. submmersible and nozzel lights. if you would like to learn like our products and our company . pls contact us . we look forward to hear from you !
Our history :
2008 . Fread and Stark found Yoshine lighting . an commercial and architecture lighting company .
2010 . Win contract of Guangzhou Asian game to supply wall washer . uplight . pool light .
2011 . Yoshine lighting expand product portfolio to industrial to replace HID MH etc .
2013 . Yoshine lighting increase its warehouse and production capacity to support increasing demand
2015 . Make significant investment on product development . machine . management .
2016 . After collect market research reports and customer feedback .Our R&D staff develop many unique model on
architectural field . warmly welcomed by the market .


Our Mission :
Create quality and cost effective LED business to achieve the demanding requirements.
Strive to create profitable business relationships with our customers.
Please Join us
We are always on the lookout for conscientious, hardworking team players to join us.
We provide a professional, relaxed working environment, advancement opportunities, competitive salaries
and benefits for all of our employees. As an Equal Opportunity Employer, Yoshine Lighting does not
discriminate on the basis of race, color, religion, national origin, age, disability or genetic information,
physical or mental disability, veteran status or any other classification as defined and protected by country
and local labor laws.