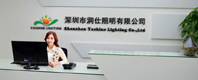 Name: Michelle
Tel: +86-18218811908
E-mail: michelle@yoshinelighting.com
Add: 6B,Jiayi industrial area,longhua disctrict shenzhen,Guangdong,China
Skype: yoshinelighting
whatsapp: 18002599296



Product name : Linear ground-recessed lighting

Product No. : 2017811111531
Details:
Linear ground-recessed lighting inground is an led luminaire designed for ground-recessed lighting
applications, including asymmetric wall washing,grazing,and linear watfinding. An innovative,plug and
play design simplifies installation. Protecing the sysyem from water infiltration and ensuring long lasting
performance. Linear inground wall grazer.slim and elegant design for linear illumination. Linear molded
optics reflect a very clean light . removes single chip discoloration option and setting the light to be uniform
in color and output.
Product Description
Inground linear fixture is design for illuminating shopping and and pedestrian areas . Parks .gardens and
sculptures . This low glare luminarie is provided with an 8mm thick tempered glass and is rated as a
walkover luminarie . the glass has a special wrap around high temperature silicon gascket that provide
additional ingress protection . Low copper contect die-cast aluminum housing with high corrosion resistance.
Stainless steel fasteners in grade 304 . Power is provided through a signle PG9 watertight cable gland .
Standard recessing box in high density polyethylene included .

ADC12 aluminum hight pressure die casting provides excellent mechanical strength . Clean product lines
and excellent heat dissipation
UV stablized Powder coated ensure it can withstand harsh environments .
Provided hardware is 304 stainless steel .
Provided with special injection mold. Long life and maintains the gaskets seal over years of use and
compression .
Die cast aluminum is used for excellent mechanical strength and thermal dissipation in low and high
ambient temperatures . Ensure maximum lumious flux output .as well as providing long led service life .
Standard 10kv surge suppressor provided with all fixtures .
Tapped holes are infused with an special anti seize compound design to prevent seizure of threaded
connections . Due to electrolysis from heat corrosive atmospheres and moisture .
Precise optic design provides exceptional light control and precise distribution of light .

Aluminum body Impact resistant glass .IP65
All power and data connections to be down threw stainless steel gland nut provided with the fixture .
Maxium 50000hrs depending upon the ambient temperature of installation location .
Driver over capability 1300kgs vehicle weight .
PN#

Option

Watt Color

DIMENSION

DEGREE

IP
YS3LSS18W
Symmetric 18w W/R/G/B/A
L1000*W30*H90mm
120° IP67 IK08