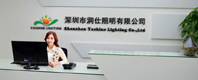 Name: Michelle
Tel: +86-18218811908
E-mail: michelle@yoshinelighting.com
Add: 6B,Jiayi industrial area,longhua disctrict shenzhen,Guangdong,China
Skype: yoshinelighting
whatsapp: 18002599296



Product name : LED flood lights

Product No. : 201752111118
Details:
Specification
LED mini curve flood light is a improved version in the market, developed on the basis of the conventional flood light products,
ultrathin design make sure convenient install and save lot ship cost.less light failure, purity light color , no ghosting, energy saving,
Flip chip COB and SMD2835 are optional with 90lm/w. CE ROHS ERP listed
1.High efficiency & energy saving more than 70%
2.No UV & IR . It won't distribute ray radiation
3.Eco-friendly, No Hg & Xe Recyclable, also it won't generate EMI;
4.High performance external constant current drivers
,no stroboscopic, good for eyesight protection;
5.Thermal design, integration of the advanced die-casting forming
Workshop, warehouse, toll station, gas station, large supermarket,
exhibition hall, gymnasium, hall, conference room, shopping mall,etc.
Input voltage

AC100-240V
Performance option

PIR Micro wave
Body material

Aluminum alloy
Diffuser material

Toughed glass
Cable info

0.3m naked cable with 3*0.75 or 1m 1*1.0 H05RN-F rubber cable option
1. Any wire damage should be replaced by qualified professional person to avoid dangerous
2. Please cut down the input power supply once the lamp works abnormal
3. Please take measures of lighting protection, and ensure the Input voltage which is stable
4. Please put the lamp under the dry, ventilated and clean circumstance, and clean and maintain regularly
5. Don't disassemble by yourself, avoid the electric shock as there is high voltage inside the lamp
6. Please ask professional electrician when installing.
And the ways of connecting of three-core cable is that Brown is firing line, Blue is null line, Yellow is earth line.