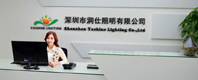 Name: Michelle
Tel: +86-18002599296
E-mail: michelle@yoshinelighting.com
Add: 6B,Jiayi industrial area,longhua disctrict shenzhen,Guangdong,China
Skype: yoshinelighting
whatsapp: 18002599296



Product name : tri proof led light

Product No. : 2017522171926
Details:
Features
Thermal/Lumen balanced light engine
IP65 rated with hermetic sealing
Long lifespan LM80 SMD2835 TM21
Better visibly and non-dazzing light
Quality light and maximum energy saving
Smooth and pleasant apprearance
Instant on no flicker no mercury RoHs compliant
A cost effective LED vapor tight fixture.features PC+PC body
Design to install heights for parking drive lane compliance.
For use as utility lighting. Packing garage and stairwell lighting
where meets applicable building and safety codes.
Items# Size Lumen Power Size Volt
YST8/T1006081 60cm single 1000lm 10w L660*W88*H74mm AC100-240V
YST8/T1060122 60cm double 2000lm 2*10w L660*W125*H94mm AC100-240V
YST8/T1012081 120cm single 1800lm 18W L1270*W88*H74mm AC100-240V
YST8/T10120122 120cm double 3600lm 2*18w L1270*W125*H94mm AC100-240V
YST8/T1015091 150cm single 2200lm 22w L1570*W88*H74mm AC100-240V
YST8/T10150122 150cm double 4400lm 2*22w L1570*W125*H94mm AC100-240V