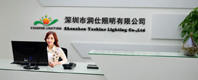 Name: Michelle
Tel: +86-18218811908
E-mail: [email protected]
Add: Floor 6, Building 2, No.247 Longxi Road, Jianghai District, Jiangmen,Guangdong,China
Skype: yoshinelighting
whatsapp: 18218811908


About us

Welcome to Facade Lighting solution,Shenzhen Yoshine Lighting Co.,Ltd. We are in the industry's leading designers and suppliers of energy-efficient lighting systems for municipal road and bridge, hotel, theme parks,And architectural applications.Work with designer, distributor, contractor, engineer, consultant for project.
Founded in 2008. Over last 10 years. Yoshine products have become benchmarks for innovation, quality and new energy-efficiency standards. With great capacity of technological innovation. Research and development. Experience.
The company has gradually modified its products range. Focus its business on façade. architectural and landscape lighting for indoor and outdoor areas.with feature products led pixel light,led wall washer,direct view cove lighting,flood&spot lighting,inground and step light,submmersible and nozzel lights. Developed for domestic use as well as export to many countries in North and south America. Europe . Middle east and Asia Pacific.
Yoshine product range offers customers a wide choice of standard as well as bespoke luminaires for their specific lighting needs.
Total: 8
Page: 1 / 1
First
←Previous
Next→
End