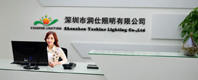 Name: Michelle
Tel: +86-18218811908
E-mail: [email protected]
Add: Floor 6, Building 2, No.247 Longxi Road, Jianghai District, Jiangmen,Guangdong,China
Skype: yoshinelighting
whatsapp: 18218811908


Yoshine lighting offer dynamic media façade light and landscape light with intelligent color-changing DMX controllable systems. involving wall washing, wall grazing, architectural spot lighting, flood lighting, cove lighting. Concealed linear. submersible lights , for interior and exterior applications.
Wall Washer

Yoshine Lighting is a one stop lighting solution provider offers professional lighting concepts to Retail, hospitality, corporate and residential sect...

More>>

Cove Lighting

LED pixel point light use for façade lighting, can show off the building exterior in many ways, accentuating the outline, the patterns in the e...

More>>

Spot Lighting

Square wall washers is highly robust with superb quality CREE XPE LEDs, ideal for washing buildings and signs with vibrant color. This color-washing L...

More>>

Inground lighting

Inground LED lighting is highly flexible and the perfect option to provide accent to any project or feature; linear inground light,...

More>>

Fountain Lighting

Underwater luminaire wall recessed,completely made in stainless steel AISI 316L marine grade. Silicon o rings. Acetal resin housing for recess. With C...

More>>